The Center for Astrophysics | Harvard & Smithsonian is a collaboration between the Smithsonian Astrophysical Observatory and Harvard College Observatory designed to ask—and ultimately answer—humanity's greatest unresolved questions about the nature of the universe.
There's only one thing missing: you.

We are looking for life. You can help us find it.
The Smithsonian Astrophysical Observatory (SAO) is on the cusp of answering humankind's most profound question:
Are we alone?
In the past two decades, the number of known planets has grown from those in our solar system to thousands. As this list of new planets increases, SAO is developing technology to detect evidence of life in their atmospheres.
Finding life elsewhere in the universe will require the power of the Giant Magellan Telescope and its GMT-Consortium Large Earth Finder, or G-CLEF instrument.
The Giant Magellan Telescope will employ seven of today's largest mirrors to create one of the greatest light collecting areas ever assembled. This design will provide a resolving power 10 times greater than the Hubble Space Telescope.
The design and development of the G-CLEF instrument, led by SAO, will capitalize on this unequaled collection capacity as the most sensitive spectrograph ever built. Light captured by the GMT will be split into its component colors and be analyzed for "biomarkers" that would signal the presence of life.
In particular, astronomers will search for signs of oxygen. On our world, oxygen is generated by living organisms. It is a reactive gas that quickly combines with other elements, so if it is found in abundance something must be replenishing it.
The discovery of oxygen or other "biomarkers" in a distant world's atmosphere will forever change our view of our place in the cosmos. It will be the strongest indication of life ever measured. At last, we will know that we are not alone.
Show Your Support
Help us answer one of humanity's greatest questions with a one-time or annual gift to fund the Giant Magellan Telescope through the Smithsonian Astrophysical Observatory.
Share this Page
Contact Us
For more information about supporting our science, please contact our Advancement Office.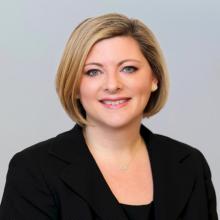 Sharon Allen
Chief Advancement and External Affairs Officer
Smithsonian Astrophysical Observatory