The Center for Astrophysics | Harvard & Smithsonian sponsors a variety of free programs for the public. Among these events are Observatory Nights held on the third Thursday of select months. Observatory Nights feature a nontechnical lecture intended for high-school age and older audiences but children are also welcome. We also sponsor a variety of other special observing events throughout the year. Admission is free.
Public Observatory Nights will resume in Fall 2021 in a virtual format and will be live-streamed on our Facebook and YouTube channels.
For more information, including accessibility, or to sign up for the events mailing list, call the Public Affairs Office (617) 495-7461 or email obsvnight@cfa.harvard.edu.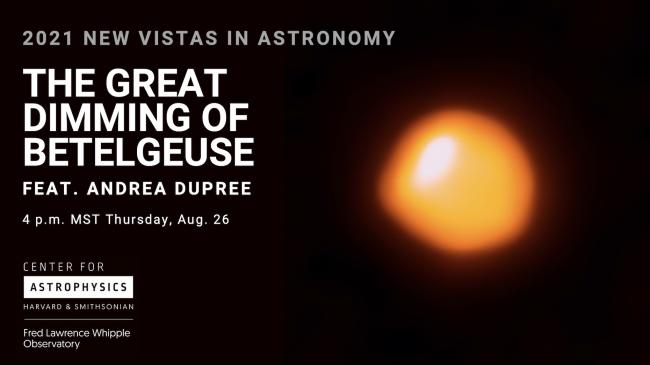 In December 2019, the bright red supergiant in the shoulder of the Orion constellation became dimmer. By February 2020, Betelgeuse was historically dim – the faintest the star had ever been in more than a century! Not only did dimming distort the appearance of Orion, but it raised fears that the star was preparing to explode as a supernova. Astronomers using telescopes on the ground and in space followed the star's behavior and are beginning to understand what caused this extraordinary event. Astronomer Andrea Dupree will delve into the most recent observations and reveal the events that led to the historic 'Great Dimming' of Betelgeuse in 2020.
This event will be be held on August 26, at 7:00 pm EDT, and will be live streamed on the Fred Lawrence Whipple Observatory Facebook and YouTube page.
Enjoy our catalog of previous Public Observatory Nights at our YouTube channel, including this featured presentation on NASA's Parker Solar Probe.