The Center for Astrophysics | Harvard & Smithsonian sponsors a variety of free programs for the public. Among these events are Observatory Nights. Observatory Nights feature a nontechnical lecture intended for high-school age and older audiences but children are also welcome. We also sponsor a variety of other special observing events throughout the year. Admission is free.
Public Observatory Nights will resume in Fall 2022 in a virtual format and will be live-streamed on our Facebook and YouTube channels.
Sign up for our mailing to learn about future events here. For more information, or to request accessibility services, email obsvnight@cfa.harvard.edu.
Observatory Night: A Tour of the Night Sky with the Harvard Clay Telescope
Thursday, Nov. 17 | 7 pm ET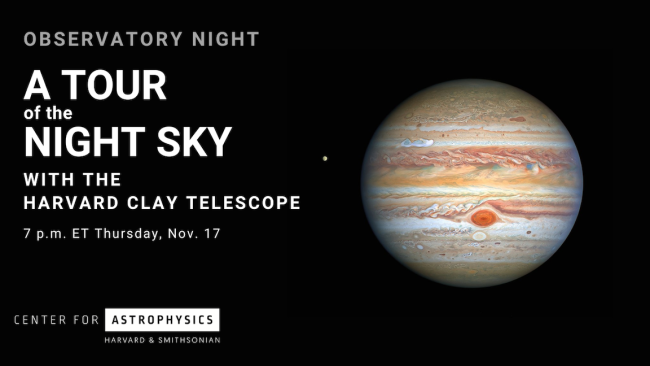 Take a virtual tour of the November sky using the 16-inch Clay Telescope atop the Harvard Science Center in Cambridge, MA. We'll zoom through the solar system with a few stops at the bright planets -- Mars, Jupiter, and Saturn -- and then we'll view a star cluster before exiting the Milky Way and ending the tour by viewing another galaxy. Join us for this fun adventure through the cosmos! This event will feature astronomer Allyson Bieryla who manages the Harvard Science Center Astronomy Lab and Telescope and Zachary Murray, an astronomy graduate student. Please note: This is a virtual event that be live-streamed on our Facebook and YouTube channels.
Please note: This event is weather permitting and may be postponed due to overcast skies.
Enjoy our catalog of previous Public Observatory Nights at our YouTube channel, including this featured presentation on NASA's Parker Solar Probe.