Share this Page
Telescopes/Instruments
Related Media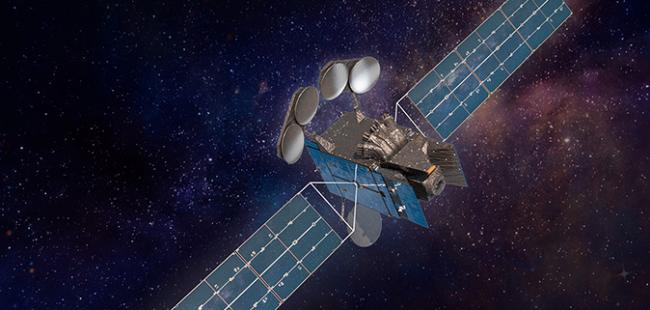 Cambridge, MA -
The Tropospheric Emissions: Monitoring of Pollution (TEMPO) instrument, a NASA satellite instrument lead by Principal Investigator Kelly Chance from the Center for Astrophysics | Harvard & Smithsonian, will launch to orbit aboard a SpaceX Falcon 9 launch vehicle. TEMPO will measure air pollution hourly during daytime in North America, including the entire continental United States.
Intelsat announced the selection of the launch provider this week. The launch is planned for 2022. In February, Intelsat and Maxar Technologies agreed to host NASA's TEMPO instrument onboard Intelsat 40e, which is based on Maxar's 1300-class satellite platform and will provide commercial satellite communications for Intelsat customers in North and Central America.
"This is another significant milestone in TEMPO's journey to Earth orbit, where it will make important measurements that advance our ability to measure air pollution," said Steve Hall, TEMPO program manager at NASA's Langley Research Center in Hampton, Virginia. "We're glad SpaceX will be part of the team."
TEMPO will be part of an air quality satellite "virtual constellation" that will measure pollutants — including ozone, nitrogen dioxide, formaldehyde and tiny atmospheric particles called aerosols — in unprecedented frequency and detail.
South Korea's Geostationary Environment Monitoring Spectrometer (GEMS), the first instrument in the constellation, which launched into space Feb. 18 on the Korean Aerospace Research Institute GEO-KOMPSAT-2B satellite, will measure pollution over Asia. The European Space Agency Sentinel-4 satellite, expected to launch in 2023, will make measurements over Europe and North Africa.
The three satellites will make measurements from geostationary, or fixed, orbits that allow them to scan their respective world regions hourly during daytime and at a high spatial resolution.
Learn more about the science behind the TEMPO instrument: http://tempo.si.edu/.
About Center for Astrophysics | Harvard & Smithsonian
Headquartered in Cambridge, Mass., the Center for Astrophysics | Harvard & Smithsonian (CfA) is a collaboration between the Smithsonian Astrophysical Observatory and the Harvard College Observatory. CfA scientists, organized into six research divisions, study the origin, evolution and ultimate fate of the universe.
For more information, contact:
Tyler Jump
Public Affairs
Center for Astrophysics | Harvard & Smithsonian
+1 617-495-7462
tyler.jump@cfa.harvard.edu