MicroObservatory Telescope Network
The MicroObservatory Robotic Telescope Network is a collection of five computer-controlled telescopes, built specifically for use by public audiences of all ages. These telescopes were designed by the scientists and educators at the Center for Astrophysics | Harvard & Smithsonian, to allow non-professionals interested in astronomy to use small but high-quality instruments for observing the sky. The MicroObservatory telescopes are located at various CfA observatories, including the Fred Lawrence Whipple Observatory in southern Arizona.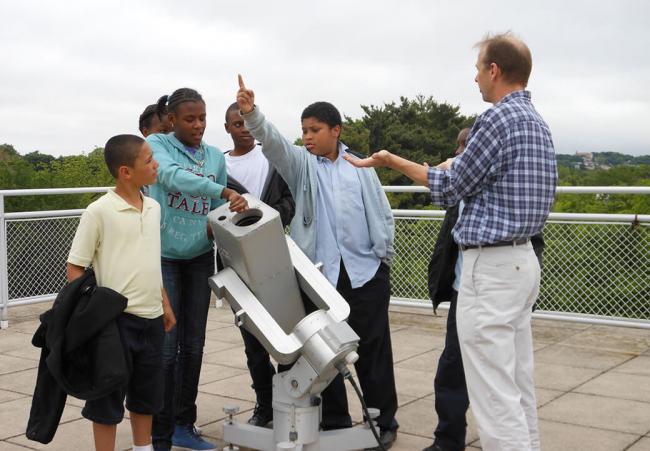 Telescopes for Everyone
Modern telescopes used for research are steered by computer, to allow for accurate pointing and observations controlled from remote sites through the internet. The MicroObservatory allows users to control telescopes through a very simple website interface, as part of classroom activities, after-school programs, or for personal interest. In that way, users have access to quality telescopes wherever they are, including cities where light pollution prevents astronomical observations.
MicroObservatory uses reflecting telescopes with six-inch diameter mirrors. The telescopes are built with detectors known as charge-coupled devices (CCD), which are essentially the same as the electronics inside digital cameras. The telescope cameras allow for short or long exposures, making it possible to not only image the Sun, Moon, and other Solar System objects, but also deep space objects: star clusters, nebulas, galaxies, and more.  Users pick observational targets from a menu, and the website guides them through the process of telling the telescope where to point and how to take the image. The MicroObservatory website includes easy-to-use image processing software so that observers can enhance, analyze, and color their images the same way professionals do.
Visit the DIY Exoplanet Website
Big Questions
Research Topics
Science Fields
Divisions