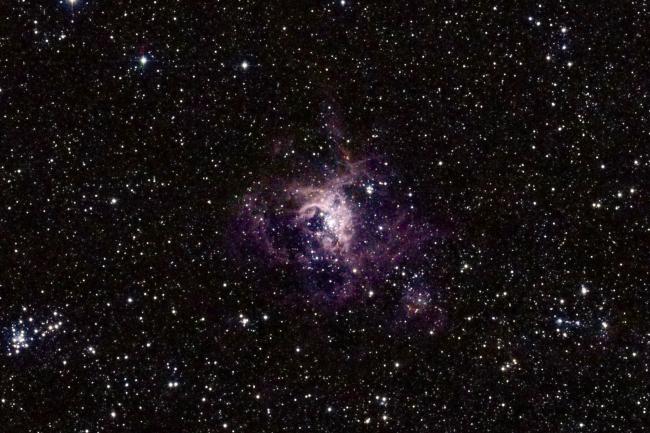 A Map of the Cosmic Neighborhood
As the universe expands, galaxies are getting ever farther apart on average. That means from our perspective, other galaxies appear to be moving away from the Milky Way, with more distant galaxies seeming to recede faster. This motion can be measured by the redshift of light: the stretching of wavelengths due to cosmic expansion. This effect grows with distance, making redshift an excellent way to measure distances to other galaxies.
The 2MRS project uses redshifts of galaxies within about 370 million light-years of Earth to generate a three-dimensional map of the nearby universe. While 370 million years seems like a long time on human scales, it's only about 3 percent of the total history of the universe. As a result, 2MRS is effectively an atlas of the distribution of 45,000 galaxies they are now. This survey also provides important information on the structure of dark matter, which governs how galaxies clump together.
The 2MASS observational program, which is the basis for 2MRS, was conducted using the 1.3 Meter Telescope at the CfA's Fred Lawrence Whipple Observatory (FLWO) in Arizona and an identical instrument operated by the Cerro Tololo Inter-American Observatory in Chile. 2MASS mapped the entire sky in infrared light, cataloging 300 million astronomical sources. CfA astronomers used the 2MASS data to obtain redshift measurements for the nearest of the galaxies to construct the 2MRS catalog.